CHILDREN OF TAI JI by DR LUCE CONDAMINE
First appeared in Tai Chi Chuan Magazine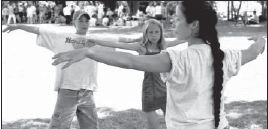 When we watch a baby move we can see their 'centre'. In fact, a newborn baby cannot control the tone of their muscles in their arms or legs. Their only way of moving is to move their centre. A great many times I had the good fortune to marvel at the treasures of little children, due to the fact that I'm a "doctor for children" and also a mother. However, the moment chidren go to school, despite the excellence of the teachers, it's almost as if socialisation tears their wings. Alise, my eldest, explained it very well to me when she was only three : "School's fine, but there are far too many children". What can we do with 28 or 30 children in the same room? Every morning I would see my daughter like a shining princess at home change into an immobile pupil. Arms straight by her sides, attentive and good (all the better), her body was static and still (all the worse). In the meantime Iris, my second child, who was just one year old, succeeded in pushing me to the other side of the room, with a fabulous "open spirale" of one of her tiny little arms. These same spirales are the ones I've worked on for years in the advanced Tai Ji course. We can conclude then that these spirals are natural, inborn, spontaneous !!! It therefore became most urgent to do something about this situation before these Tai Ji marvels (centre, spirals, breathing, spontaneity, well being in the love of life, what else do I know ?) are lost through growing up. The risk of never finding these marvels again as an adult felt huge. In the underground, I noticed people on all sides of me, so many adults who carried their body like awkward packages. They had a closed, shut down look on their faces that I never want to have. They looked like they had given up on their dreams - as if they had lost their ability to marvel at life.
And even if sometimes children are our masters (in such areas as : spontaneity, creativity, zest for life and energy), it's only natural that it's up to us, the parents and teachers to do all we can to allow children to bloom at their best. So, I jumped in at the deep end and started teaching Tai Ji to children, thanks to my daughters and their friends. However, I then sensed how more urgent and important it was "not to lose" these treasures than it was to 'teach' Tai Ji. I did it years ago, when I wasn't at all ready to teach Tai Ji. I was young in the world of Tai Ji, and I only had basic pedagogical training for children suffering from chronic illnesses or students in the faculty of medicine. So it was, that I was armed with a lot of gaps in my knowledge, but with mountains of enthusiasm and willingness. I began teaching Tai Ji to children simply because none of my Tai Ji friends (who were more experienced in Tai Ji and teaching than me) wanted to do it. I taught in the Franco- Vietnamese Cultural Centre in rue des Ecoles in Paris. I also taught at my childrens' nursery school and at their primary school. (They have suggested that I also teach Tai Ji in secondary school this year.) I have learnt a lot. I have used all my experience: first my childhood experience, then my experience as a paediatrician. I have also gained experience from dance, yoga and of course Tai Ji. I have helped children to develop a taste for pleasure and relaxation and helped them to sense, or feel the presence of, their bodies. I have also helped them learn a sense of balance and movement and also a consciousness of space. Traditional movements in Tai Ji allow children to acquire a better consciousness of their bodies and a more harmonious development whatever their initial possibilities seem to be. In fact, everything is done in a playful manner without showing off or without rivality.
One does not have to be particularly strong, big or muscular to succeed in Tai Ji. Everyone is happy with their own progress. One does not have to prove themselves to anybody. Of course it must not be forgotten that Tai Ji is a martial art but our goal here is to practice it in a nonviolent manner. However, if we don't practice 'real' martial art with children (there's no question of teaching them anything dangerous), the practice of working with a partner plays a major role in learning - in particular "pushing hands" or "Tui Shou". This practice with a partner (not an adversary) is the way we can open ourselves to someone else. It also teaches respect, tolerance and participation in the school of life.
My dream now is to help the development of teaching Tai Ji for children so that the body is not neglected in education. This can be done without any competitive or rival elements, but simply that the body and the spirit are united in harmony. Just like everybody doesn't need to be a brillant mathematician to use the logic of normal maths in their daily lives, one doesn't need to be a Tai Ji master to improve the quality of their life thanks to Tai Ji.

Tai Chi pour Enfants / Easy Tai Chi for Children (bilingual edition) - Dr Luce Condamine Le Souffle d'Or
This book for children, adult beginners, or for Tai ji teachers can be ordered though internet http://www.souffledor.fr
Dr Luce Condamine is a paediatrician, a sports doctor, and a Tai ji teacher. The teaching here has been adapted for young children (4 to 12 year old), in order to allow them to flower and develop. It helps them to improve balance, flexibility, breathing capabilities and concentration. Furthermore, it gives them a consciousness of their own bodies and themselves.